"TREKKING TO WORK IS A LITTLE DISCOMFORT" LAGOS GOVT.
If you've been trekking to work because of the Okada ban, Lagos govt says it's a "little discomfort." Residents of Lagos, since the ban of motorcycles and tricycles on Saturday, February 1, 2020 has been raining insults on the governor Sanwo-olu  . The Ban, which affects six local governments ,has left many residents walking long distances where commercial buses cannot reach, and some has been seen transporting themselves with horses.
Lagosians say the ban is a myopic one, enforced without alternatives at all.
However, the Lagos state government says it will soon flood the roads with buses to cushion the pain of the ban. "The little discomfort experienced by commuters on some routes due to the absence of motorcycles and tricycles is noted. This won't last as alternatives are being rolled out," the state government announced through its twitter account.
"A fleet of 65 buses will join the others on some major routes as from Monday, February 3, 2020. No less than 550 more buses are being expected. Besides, 14 ferries will be commissioned on Tuesday. This will further open up the waterways, reduce travel time on various routes and provide safe, dependable and comfortable alternatives for commuters."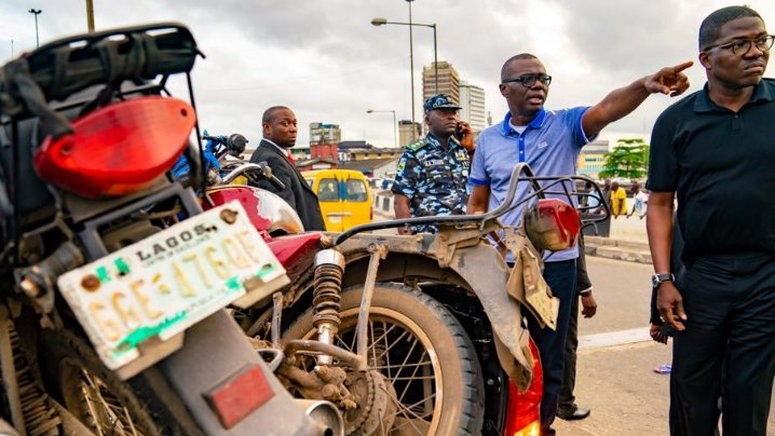 Lagos Gov Sanwo-Olu says commercial bikers endanger the lives of residents (Punch)
However, Twitter user OBOGlobal says, "14 ferries and 65 buses for a population of 18 million? In London alone there are 8,600 buses in the bus fleet, operating on 700 routes, serving 19,000 bus stops serving a population of 8.7 million. Eat that!"
Okada and keke mechanics will also be out of jobs as a consequence.
The Lagos state government says "it is not unaware that enforcing this directive may lead to some job losses. The governor plans to announce some measures to tackle the likely effects of the order."